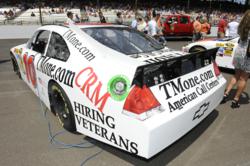 Mooresville, N.C. (PRWEB) August 02, 2012
TMone will return to Tommy Baldwin Racing (TBR) this weekend at Pocono Raceway. The business process outsourcing (BPO) company will support the team in an associate partnership with the No. 10 Chevrolet driven by David Reutimann and primary partnership with the No. 36 @TMone C.R.M. Hiring Veterans Chevrolet driven by Tony Raines.
TMone, pronounced T-M-one, is a semi-rural provider of domestic business services and customer relationship management (CRM) outsourcing. TMone is seeking to hire over 150 veterans immediately for full-time, permanent positions for its U.S.A. Outsourcing Operations. TMone's employer commitment is part of the Hiring Our Heroes initiative from the U.S. Chamber of Commerce, a nationwide campaign to help veterans and military spouses find meaningful employment.
Listed as one of Inc. Magazines's Fastest Growing Privately-held Companies in the USA for five years, TMone is seasoned in recruiting, staffing and training but admits there is a gap in executing the Veterans Hiring Initiative. Therefore, TMone is seeking the assistance from non-profit groups to achieve the target by 2013 and looks forward to new partnerships to ensure that permanent positions are filled. Partnerships discussions include but are not limited to the Employer Support of the Guard and Reserve (ESGR), RecruitMilitary, The American Legion, the Department of Labor Veterans' Employment and Training Service (DOL VETS), and the Department of Veterans Affairs.
All of TMone's jobs are filled in the Heartland of America. TMone's growth is a direct result of supporting some of the biggest brands in the NASCAR garage. TMone helps service and support other company's customers so Fortune 1000 clients can focus their human capital on their core businesses, which in return drives jobs internally and externally.
"We committed to hiring as many veterans as possible, and NASCAR is a great way to find them," said TMone Co-Founder and President Anthony Marlowe. "They are the most respectful and professional people I have ever met and are proven leaders and representatives for our client's brands."
TMone has sponsored one or more cars in all 20 NSCS races this season. The company has teamed up with TBR for nearly half of those events, including a primary partnership at Kentucky Speedway and Indianapolis Motor Speedway, and co-primary partnership at Daytona International Speedway. Reutimann drove the No. 10 CarportEmpire.com / TMone.com Call Centers in America Chevrolet to TBR's best finish this season in July when he tallied an 11th-place finish.
"TMone continues to be a supportive partner for us," explained Tommy Baldwin. "Their initiative to hire veterans is very commendable, and we are thrilled to help them spread the word this weekend at Pocono."
Reutimann will hit the "Tricky Triangle" this weekend for the Pennsylvania 400 Sunday, August 5.
About TMone:
TMone (pronounced T-M-one) is a leading in the USA call center business process outsourcing firm specializing in Customer Relationship Management (CRM), Inside Sales and Customer Service Selling (CSS). When it comes to business-to-business (B2B) and business-to-consumer (B2C) customer interactions, TMone is unsurpassed in its ability to provide best in class results in performance, cost containment, quality and client satisfaction. This approach has made it one of Inc. Magazine's Fastest Growing Private Companies in America five years in a row. Headquartered in Iowa City, Iowa with additional service delivery facilities in Des Moines, Iowa, Dakota Dunes and Spearfish, South Dakota TMone is now hiring.
To learn more about TMone, visit http://TMone.com, @TMone's Twitter http://Twitter.com/TMone or TMone's Racing Facebook http://www.facebook.com/TMoneRacing page.
About Tommy Baldwin Racing:
NASCAR Sprint Cup Series (NSCS) Crew Chief Tommy Baldwin formed Tommy Baldwin Racing (TBR) in 2009. Baldwin utilized a declining economy to open a NSCS team with a stringent budget. The team worked to build to full-time competition, and by the 2011 season, the team's third season, TBR competed in every race and locked the No. 36 Chevrolet in the top-35 in NSCS Owner Points. Dave Blaney drove the No. 36 Chevrolet to TBR's highest finish of third in the October 2011 event at Talladega Superspeedway. TBR also fielded a second car for select races in the past two seasons with multiple drivers.
Based in Mooresville, N.C., TBR will compete in the NSCS in 2012 with NASCAR veterans David Reutimann and Dave Blaney. The team will also compete in the NASCAR Nationwide Series with Ryan Blaney, Bobby Santos and Ryan Truex.
For more information on Tommy Baldwin Racing, visit tommybaldwinracing.com or follow us on Facebook, facebook.com/TBR.HBR, and Twitter, twitter.com/TBR_Racing.