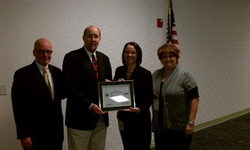 We are humbled and honored that Rob nominated us for the Patriot Award.
New York (PRWEB) March 16, 2011 —
TMP Directional Marketing (TMPDM), the world's largest local-search agency, announced that its division in Milwaukee, Wisconsin, received the Patriot Award by the Employer Support of the Guard and Reserve (ESGR), an all-civilian volunteer agency of the Department of Defense.
The Patriot Award is given to employers who practice leadership and personnel policies that support employee participation in the National Guard and Reserve. The Wisconsin Committee of ESGR bestowed this award upon TMPDM's Teri Huenink for her support of one of our employees, Robert Ross. Ross, who serves as a client services representative at TMPDM is also a staff sergeant in the U.S. Army Reserve who is being deployed for a second time.
"We are humbled and honored that Rob nominated us for the Patriot Award," said Huenink. "But it is we who should be honoring him for his continuing sacrifice, which ensures that we live protected and free. In addition to Rob's exemplary service to his company, he is an outstanding citizen and defender of our nation's borders. We send our thanks and gratitude to him for protecting our freedom."
Currently, approximately 1.3 million members defend our nation through the National Guard and Reserve — a task that will cause them to miss time at work. The mission of ESGR, which was formed in 1972, is to be a resource for employers of those brave men and women, helping them comply with employment laws that protect the rights of workers who also serve in the National Guard and Reserve. ESGR also provides employment assistance for returning service members. Through education, consulting and mediation, ESGR promotes cooperation and understanding among National Guard and Reserve members and their civilian employers, as well as assists in resolution conflicts arising from an employee's military commitment.
About TMP Directional Marketing
Together with its interactive-services division, 15miles, TMPDM offers online-, offline- and mobile-search solutions to help national brands and independent businesses reach local-market consumers. Since 1967, TMPDM has leveraged its search expertise to position businesses at the forefront of search results, thereby increasing leads and sales for hundreds of clients. Privately held by the Audax Group, TMPDM is headquartered in New York, with 400 employees and 15 offices in the U.S. and Canada. For more information, visit http://www.tmpdm.com.
###