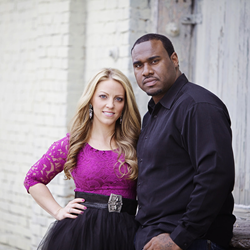 "Audrelle's custom cakes have changed the game in baked goods, as she expresses her inner creativeness while WOW'ing our clients with her custom masterpieces." -JENNIFER HAYE
Nashville, TN (PRWEB) March 30, 2015
Royal Flair Events, formerly Haye Ink, is a boutique event and design firm located in Brentwood, Tennessee founded by Jennifer Haye, wife of former Tennessee Titan, Jovan Haye.
"I never imagined life after football would involve being a part of such a unique and creative business, but seeing my wife's business grow over the years has intrigued me" says Jovan.
"Jovan actually plays a huge role in our day to day operations and I could not do it with out him," says his wife Jennifer. The couple resides in Brentwood, TN with their three small children.
Royal Flair Events announces the launch of a new bakery, event space and party supply boutique in Brentwood, Tennessee. The bakery will feature cake by the slice.
"The event space will be available for intimate social gatherings and Royal Flair Events will host several weekly events to the public. The party supply boutique offers a wide range of party supplies and specialty gifts. The Royal Flair Team currently consist of Jennifer Haye (Owner, Founder, Event Planner & Stylist), Miranda Tamaska (Event Planner, Designer & Stylist) and Audrelle Brown (Bakery Manager and Cake Artist). Each member brings a multitude of experience and knowledge to the table. "Our goal is to continue growing and adding more talented members to our team," says Jennifer. "Many people love a one-stop shop. My partners and I wanted to combine our businesses to achieve that desire. We felt there was a niche for creative minds alike and wanted to offer a distinguished location for people who are looking for something special and varied."
Although there are many bakeries, Royal Flair Bakery intends to offer more, having created a considerable daily menu and accepting custom orders as well.
"At Royal Flair Bakery you'll be able to get just about anything," Haye continued. "Audrelle's custom cakes have changed the game in baked goods, as she expresses her inner creativeness, while WOW'ing our clients with her custom masterpieces."
Royal Flair Events will open its first store in Brentwood, Tennessee. Beyond that, more locations are planned.
"Our goal is to build an elite team of creative minds alike and expand our business within the next three years," Haye added.
Royal Flair Events is located in Brentwood, TN, offering wedding and event planning services, personal branding and styling services, intimate event space, a specialty boutique and a custom bakery. We hope you will visit us soon.