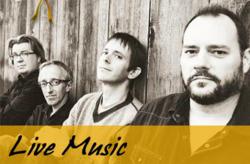 Harvest Festival is not only a great family-friendly event for old and young alike, but the proceeds will be invested in our community to make Pound Ridge the best that it can be, explains Ali Boak, co-founder of the Pound Ridge Partnership.
Pound Ridge, NY (PRWEB) September 28, 2012
Nestled in the woods of Northern Westchester, Pound Ridge is New York's version of small town America: a sleepy, country nook with a two-block main street, more bicycles than cars, and not a single stop light to be found. But for one day a year, Main Street comes alive as the locals host thousands of visitors from far and wide. It's Pound Ridge Harvest Festival -- a celebration of small town America, right here in New York. But just because the town is small doesn't mean the celebration is. Last year's festival featured Edwin McCain. This year, the Harvest Festival's headline act is Toad the Wet Sprocket. The day's schedule of activities embraces all the wonderful things you need for a family focused fall day: music, laughter, delicious food and drink (a beer/wine garden for adults and a root beer garden for kids!), kid activities such as face painting and a chance to check out the local antiques and shop owner's wares.
Needless to say, the Festival Committee is excited to have Toad the Wet Sprocket, such a major band performing (thanks to Steven Bensusan, owner of B.B. King Blues Club, Pound Ridge resident, and a major force on the festival committee). Besides spectacular music, the food will be befitting of a fun fall day. Festival cuisine will include harvest specialties: bratwurst and sauerkraut, German potato salad, fire-grilled corn, grilled hamburgers and hotdogs, veggie burgers and tofu dogs, butternut squash ravioli, soft pretzels, caramel apples, pumpkin mini muffins and apple cider. For the adults, the Harvest Festival will offer a beer garden and a wine garden.
For the kids and family it will offer a Root Beer Garden and fun activities like: Face -Painting, Airbrush-Tattoos, Bouncy Houses, Magician, Balloon Animals, Hay Pile Scramble, Football Toss and Cookie Decorating. Community organizations and businesses will present their projects and wares. Besides local businesses that are sponsoring the event, major sponsors include: the Bedford Post, Magic Hat Brewing Company, B.B. King Blues Club & Grill, The Peak 107.1 FM, Grand Prix, Scotts Corner Market and the Ridgefield Playhouse.
Although the music and entrance is free, all the funds raised are invested in enhancing Pound Ridge, and continuing to make it a center of activity for it's residents and non-residents alike. The Pound Ridge Harvest Festival will be held October 13 from 2-6 pm in the Pound Ridge town center, otherwise known as Scotts Corners, on Westchester Ave. Entrance is free for everyone, and there is no need to get tickets or make reservations in advance. Rain date is Saturday October 22nd.
About The Pound Ridge Partnership (festival organizers):
The Harvest Festival is the principal fundraiser for the Pound Ridge Partnership, an energetic group of Pound Ridge residents, business owners, landlords and community leaders who are working together to enhance the town. The Partnership envisions a thriving and vibrant business district as a destination for residents to enjoy the unique, country atmosphere of the district and take part in its retail and dining experience featuring arts, antiques, and local produce and cuisine. "Harvest Festival is not only a great family-friendly event for old and young alike, but the proceeds will be invested in our community to make Pound Ridge the best that it can be," explains Ali Boak, co-founder and board member of the Pound Ridge Partnership. For further information, contact festival committee chairmen Michael Daglio Mike(dot)Daglio(at)gmail(dot)com 914-924-4757 or Kevin Long , kevinmlong(at)gmail(dot)com 914-980-3475 or go to http://www.poundridgeharvestfestival.com.
About Toad the Wet Sprocket:
Named in honor of a sketch by the Monty Python comedy troupe, this 4-piece band of Santa Barbara, CA high school cronies came to be known as Toad the Wet Sprocket in 1986. To this day, their mellow, melodic folk-pop sound made them one of the most successful alternative rock bands of the early 1990s.
Toad the Wet Sprocket's commercial breakthrough came as the single "All I Want" became a Top 20 hit. "Fear" was certified platinum, "Walk on the Ocean," also became a successful track for the band. Toad generated a Top 40 hit with the single "Fall Down." then also sold enough copies to reward them with another platinum certification. They are known for "Good Intentions," that's also been featured on the platinum selling Friends TV show soundtrack. "In Light Syrup" recently became certified gold.