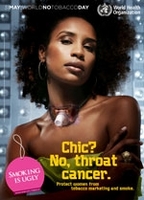 Of the over five million people who die each year from tobacco use, approximately 1.5 million are women.
San Jose, CA (PRWEB) May 30, 2010
May 31st is the World Health Organization's World No Tobacco Day. According to the World Health Organization, 1 billion people will die from smoking in this century. The e-book Toward A Tobacco Free World is being given away to inform people about the significant adverse effect tobacco continues to have on humanity, and to create awareness of the World Health Organization's World No Tobacco Day on May 31. Download the e-book and access tools to easily e-mail President Barack Obama, Senators and Congressional Representatives on tobacco control issues at http://www.tobaccobook.com.
The tobacco industry constantly and aggressively seeks new users to replace the ones who quit and the current users - up to half - who will die prematurely from cancer, heart attack, stroke, emphysema or other tobacco-related disease.
Among the industry's many targets of opportunity, women constitute one of the biggest. That's because fewer women than men smoke or chew tobacco. Only about 9% of women smoke, compared with 40% of men. Of the world's over 1 billion smokers, only about 200 million are women.
With women, the industry simply has more room to expand. While the epidemic of tobacco use among men is in slow decline in some countries, use among women in some countries is increasing. Of the over five million people who die each year from tobacco use, approximately 1.5 million are women.
The future character of the global tobacco epidemic among women can be seen in the habits of girls today. In half of the 151 countries surveyed for trends in smoking among young people, roughly as many girls smoked cigarettes as boys. In some countries, more girls smoked than boys. Teenagers who smoke are likely to become regular smokers in adulthood.
Of the over five million people who die each year from tobacco use, approximately 1.5 million are women. Unless urgent action is taken, tobacco use could kill more than eight million people per year by 2030, of whom 2.5 million would be women. Approximately three-quarters of these female deaths would occur in the low-income and middle-income countries that are least able to absorb such losses. Every one of these premature deaths would have been avoidable.
In some countries, the bigger threat to women is from exposure to the smoke of others, particularly men. For example, in China, where one-third of the world's adult smokers live, the tobacco epidemic is almost entirely a male phenomenon. Less than 3% of women in China smoke. Yet more than half of Chinese women of reproductive age are regularly exposed to second-hand smoke. Worldwide, of the approximately 430 000 adult deaths caused every year by second-hand smoke, about 64% occur in women. World No Tobacco Day 2010 focuses on the harm which tobacco marketing and smoke do to women. At the same time, it seeks to make men more aware of their responsibility to avoid smoking around the women with whom they live and work.
Find out more about the W.H.O. World No Tobacco Day at http://www.tobaccobook.com/WHOWNTD.html .
It Is Still a Big Deal In The U.S.
Interestingly, when asked, many Americans don't regard the tobacco problem as a big issue. Yet it is, given that 430,000 to 450,000 Americans die from tobacco use and second hand tobacco smoke each year, and more than 3,300,000 Americans have died from tobacco use and second hand tobacco smoke since 9/11/2001.
Suffering As Well As Death
The billion people likely to die from smoking in this century don't represent all of the suffering. Close to another billion will suffer ill health issues and impaired finances due to using tobacco. Consider this: as a group, smokers in the U.S. are sick 11 more days a year and absent from work eight more days a year than non-smokers. In addition, most of the rest of the world has far less protection from second-hand tobacco smoke than in the U.S. It's estimated another 1 billion people will suffer from second-hand tobacco smoke and at that at least 100 million people may die from second-hand tobacco smoke in this century worldwide. Around the world, tobacco use and suffering continues to increase, especially in developing nations.
Smoking Affects Everyone
Non-smokers often think of smokers as "them" and not "us." But as a community, we need to realize that most people start to smoke as our children and underage teens. Currently, about 80% of smokers in the U.S start before age 18. In addition, people with mental illness have high rates of tobacco use. More than 70% of schizophrenics smoke, and between 45% and 65% of those who suffer from major depression, bipolar disorder, PTSD, and panic disorder also smoke. In addition, 80% of people with alcohol, heroin, or cocaine problems smoke. As a nation and world, its under-aged children and teens, and a disproportionately high percentage of the mentally ill, who start using tobacco products and become addicted to them.
Act NOW
Starting right now, regardless of our political affiliation, we can apply that hopeful phrase that President Barack Obama used in his 2008 presidential campaign and say:
Yes We Can keep our underage children and teens safe by preventing the sale of tobacco products to them.
Yes We Can help to decrease the spread of deadly tobacco products around the world.
Yes We Can help smokers who want to quit do so by ensuring access to effective cessation methods, and by compassionately supporting their efforts.
Yes We Can prevent people from being exposed to the harmful effects of second hand tobacco smoke.
Let's create a brighter future for humanity. Let's work as a conscious and caring Community to end the tobacco problem.
Current World Health Organization guidelines for tobacco control can be summarized using this acronym "MPOWER."
Monitor tobacco use and prevention policies.
Protect people from tobacco smoke.
Offer help to quit tobacco use.
Warn about the dangers of tobacco.
Enforce bans on tobacco advertising, promotion, and sponsorship.
Raise taxes on tobacco.
It is thought that effective implementation of these guidelines can save hundreds of millions of lives in this century.
The WHO Framework Convention on Tobacco Control is the first treaty negotiated under the auspices of the World Health Organization. Adopted by the World Health Assembly on May 21, 2003 and entered into force on February 27, 2005, it has since become one of the most widely embraced treaties in UN history. To date, 164 Countries have ratified it. The U.S. signed it on May 10, 2004, but President Bush never sent it to Congress to ratify it.
The WHO FCTC was developed to respond to the globalization of the tobacco epidemic. It's an evidence-based treaty that reaffirms the right of all people to the highest standard of health. The Convention represents a milestone for the promotion of public health and provides new legal dimensions for international health cooperation.
A Web site, http://www.tobaccobook.com, has been launched with Rabinoff's e-book. The site has tools through which users can easily email President Barack Obama to urge him to send the United Nations' Framework Convention on Tobacco Control to the U.S. Congress for ratification, as well as to communicate with their Senators and Congressional Representative regarding their views on important tobacco control issues.
The free e-book, "Toward a Tobacco Free World," available at http://www.tobaccobook.com/freebook, by Kaiser Permanente psychiatrist and UCLA researcher Dr. Michael Rabinoff, highlights the societal costs worldwide that stem from tobacco use. Rabinoff details the global cost of smoking and outlines actions that can be taken immediately to help save lives worldwide.
Tenzin Gyatso, His Holiness The 14th Dalai Lama, endorsed the book with the following statement: "Whatever short-lived pleasure it may provide, there is now no doubt that the use of tobacco is a cause of much disease and misery. The most effective way of persuading people to modify their behavior and give up bad habits such as smoking is to make them aware of the dangers involved. This book will surely go a long way towards doing this."
Robert Pearl, MD, executive director and CEO of The Permanente Medical Group, endorsed the book: "The book is outstanding and tells a compelling story about the tremendous dangers of cigarette smoking and second-hand smoke. I hope that one day smoking, like polio, will be a distant memory." The Permanente Medical Group provides medical care for Kaiser Permanente's 3.3 million members in Northern California.
Dr. Michael Rabinoff D.O. Ph.D., is a board certified psychiatrist, on the research faculty of the Department of Psychiatry at UCLA, sees patients at The Permanente Medical Group, and is C.E.O. of Biogenesys, Inc., a small research corporation. He has spent over a decade researching and writing about the devastating effects of tobacco on our health, economy and nation's politics. An esteemed psychiatrist and holder of two patents, Rabinoff has been quoted in the Wall Street Journal and Business Week, has published in the New England Journal of Medicine and other top-flight medical journals, and presented his findings on tobacco addiction and industry profiteers to the American Public Health Association and the World Congress on Tobacco or Health.
# # #