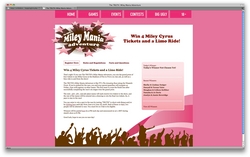 Ninety percent of people start smoking before the age of 19
Salt Lake City, Utah (PRWEB) July 7, 2008
Pop culture, anti-tobacco awareness and physical endurance merged last Friday in The TRUTH's 'Miley Mania Adventure' in Salt Lake City. Twenty parent-child teams faced six anti-tobacco riddles that lead them to scavenge over 50 miles of the Wasatch Front with nothing more than their own two feet and the local public transit system. Tickets to a sold-out Miley Cyrus concert were the carrots in this "Amazing Race" style contest that aimed to instill anti-tobacco awareness among the participants, and encourage parent-child dialogue on the topic.
"Ninety percent of people start smoking before the age of 19," said Tracy Crowell of Crowell Advertising, the marketing firm that has managed The TRUTH campaign in Utah for the past ten years. "With the 'Miley Mania Adventure' we hit the bull's eye in reaching our target audience but we wanted to do more than give away concert tickets on behalf of The TRUTH; we wanted to engage this young audience and interact with them both physically and mentally, and we needed to accomplish that with less than $20,000 for hard costs."
"Utah's youth smoking rates are the lowest in the nation and high school students here are three times less likely to smoke than their peers nationwide," said Amy Sands, program manager for The TRUTH. "Thirty-eight percent fewer high school students smoke today than they did in the early days of the campaign in 1999, which is astounding, but there is still work to be done."
Miley Mania participants were faced with a challenge at each stage of the race that related to anti-tobacco like lung capacity, health effects and chemicals; once completed, they received a branded clue card that lead them to the next stage of the adventure. The day's activities, which lasted six to seven hours, included:

A trip to a local amusement park and tickets to ride the rollercoaster (to demonstrate what it feels like to lose your breath when you smoke);
A mad dash to the Salt Lake City County Building (to blow up balloons and stuff them in body bags to signify the 126 people who die each day from secondhand smoke, and to deliver that message visually to county officials);
A hunt through a local Dan's Foods grocery store for items containing the same chemicals as cigarettes (Beginning June 1, Dan's Foods, in conjunction with two additional local Utah grocers, removed cigarettes and tobacco products from its shelves).
A pass at the Milton Bradley board game, "Operation" to remove organs that are directly affected by smoking and tobacco products.
The 20 Miley Mania participating teams were chosen at random. Crowell's public relations efforts garnered over 15 media interviews in the ten day period before the race to encourage Cyrus fans to enter to win a chance to participate by visiting http://www.fighttheugly.com; radio promotions during that same period drove traffic to the site, too, and also offered listeners a text message sign-up option. Over 920 entries were made on http://www.fighttheugly.com and over 2700 text messaged entries were received. Crowell staffers hit the streets with Miley Mania - branded flyers and distributed them in highly trafficked youth-centric locations like malls and salons.
Two ecstatic winners were chosen at random every day from June 9 - June 18; the 20 winning parent-child teams stood at the starting line on Friday, June 20th and consisted of mothers, fathers, sons and daughters.
Crowell designed the race to test math and reading skills related to anti-tobacco facts and figures, physical endurance and parent-child teamwork. After a brief orientation, the teams were given The TRUTH and Miley Mania-branded daypacks and supplies for the day, including public transportation maps and timetables; cell phones and wireless devices were confiscated.
Continued Tracy Crowell, "This campaign was such a success because we had 100 percent of the control. Members of every department in our office hit the ground running to activate the different aspects of the event from brainstorming race stage activities, designing creative and drafting media pitches, to engaging relevant local sponsors, street teaming, manning the different race stations , and taking part in race test runs. The campaign needed to be integrated to be effective and I think Crowell took that to the next level."
The winning team received four VIP tickets to the sold-out Miley Cyrus concert in Provo, Utah on July 4th, and the second through fifth place teams won two tickets each; the remaining teams were entered in a drawing for one last pair of tickets, which motivated racers to keep trying until the very end.
"Fight the Ugly" is the theme of Utah's statewide youth anti-tobacco campaign this year, drawing attention to the ugly affects of tobacco use like yellow teeth and smelly clothes. This theme underlies most of the in-state anti-tobacco marketing campaigns and Miley Mania was executed to coordinate with Fight The Ugly messaging and target audience. The new "Charm" advertising campaign was also launched in conjunction with Fight The Ugly. Visit http://www.fighttheugly.com to learn more.
Nearly 190,000 Utahans continue to smoke cigarettes, and more than 1,100 die annually as a result of their own smoking.
About Crowell Advertising Marketing & PR
Crowell Advertising, Marketing & PR, known for its unabashed creativity and innovative marketing strategies, has operated under the same ownership since 1987. The full-service agency based in Salt Lake City offers creative and production services, PR, media buying and an interactive marketing division. Crowell employs 30 staff members and reports $26 million in annual capitalized billings. For more information, visit http://www.crowelladv.com.
###