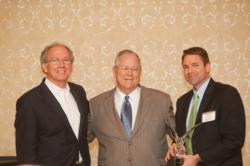 (PRWEB) February 22, 2012
The Owners' Counsel of America recently honored one of the country's top condemnation and property rights attorneys, Toby Prince Brigham, Esq., for his devotion to the constitutional right of private property ownership. For more than 50 years, Toby Brigham, has represented property owners in Florida and across the United States in eminent domain, inverse condemnation, regulatory taking challenges, condemnation blight, and related real estate, land use and business damage litigation at both the trial and appellate level.
A graduate of Yale University ('56) and the University of Florida College of Law ('59), Mr. Brigham has dedicated his law practice exclusively to the defense of private property rights. At the time he began practicing law, eminent domain was hardly a special area of practice let alone the widely known hot button issue it is today. In fact, Toby Brigham helped to develop the field of eminent domain, particularly the representation of property owners in condemnation litigation, as a focused discipline. As a past planning co-chair and current faculty member of the American Bar Association-American Law Institute (ALI-ABA) annual Eminent Domain and Land Valuation Litigation course, he has sought for over two decades to educate and inspire other lawyers in the complexities of eminent domain law and the importance of private property ownership. Mr. Brigham has also lectured and written extensively on topics concerning condemnation, just compensation and private property rights.
Since 1960, Mr. Brigham has represented property owners affected by every major public project in the State of Florida and secured among the largest trial verdicts and settlement awards for landowners in the state's eminent domain history. Additionally, Mr. Brigham pioneered the use of public-private partnerships for development. He has been involved in some of Florida's most successful public-private projects including Dadeland Station, a transit-oriented mixed use development in Miami, and the Loxahatchee Reservoir, a freshwater reservoir constructed from former rock pits in West Palm Beach. Currently, Mr. Brigham counsels landowners across the country on strategy relating to eminent domain, inverse condemnation, regulatory taking challenges and public-private partnerships.
Mr. Brigham has been recognized by both his peers and legal scholars for his effective advocacy of landowner rights. In Florida, he has been influential in shaping the constitutional and legislative provisions that currently protect property owners' rights. Among his many honors, William and Mary Law School established the Brigham-Kanner Property Rights Conference in recognition of the lifetime contributions made by Toby Brigham and Gideon Kanner, Professor Emeritus, Loyola School of Law, to this field of law. Each year the Conference awards the Brigham-Kanner Property Rights Prize to a scholar whose work has contributed to the promotion of property rights by drawing attention to the integral role property rights occupy in our society and the broader scheme of individual liberty.
Annually, the Owners' Counsel of America identifies individuals who have made a substantial contribution toward protecting the civil right of private property ownership and presents the Crystal Eagle Award. This year, the Owners' Counsel recognizes Toby Brigham who throughout his distinguished career has consistently sought to advance the cause of property rights in Florida and nationwide.
ABOUT OWNERS' COUNSEL OF AMERICA:
The Owners' Counsel of America http://www.ownerscounsel.com is a nationwide network of experienced eminent domain attorneys dedicated to protecting the rights of private property owners large and small, locally and nationally, and to furthering the cause of property rights. The lawyers affiliated with Owners' Counsel are in private practice in nearly every state and represent landowners against federal, state, and local governments, utilities, redevelopment authorities and other entities that may possess the power of eminent domain.
###