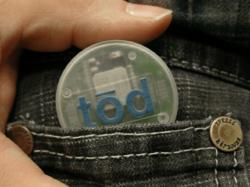 Lehi, UT (PRWEB) May 29, 2012
With less than a week remaining in the Kickstarter campaign, TOD continues to strive forward with new rewards, product updates and a new iPad 3 giveaway in efforts to maximize the funding potential.
The improvements to TOD and the overall campaign have come at a pivotal time during the Kickstarter project. Looking to ultimately break $100,000 in total funding, Rowdy Robot is already seeing an increase in traffic with the recent product revisions and rewards geared to attract more developers.
"We have received some excellent feedback from the crowd that is Kickstarter. We have used that feedback to make our product more useful and appealing for a wider audience. By adding with the capabilities to attach it to a variety of straps, clips and lanyards, releasing a new case design and new case colors, and rebranding the outside of the Smart Beacon," Rowdy Robot's VP of Sales and Marketing Don Mallicoat said.
The rebranding on the outside has taken the TOD lettering off and reduced it to a raised "o" with the macron above it (Ō) in order to serve as more of a branding icon. A symbol they hope will be recognized across the globe as tod Enabled.
In celebration of hitting their $50,000 funding goal 13 days early the Rowdy Robot team is giving away a new iPad 3 that's more interactive thanks to the 5 tod Smart Beacons they're including in the prize for the closest guess to their final finding amount. The team hopes that by giving away one of the mobile devices compatible with Bluetooth 4.0, on their facebook page, they will attract more attention to their Kickstarter project from those who do not yet have the newest Apple product sensation.
"We're also giving away a runner up prize of a 3 pack of beacons. Entering is easy, simply guess what our final funding goal will be within a dollar and without going over, like our project and share the contest with friends by June 2, 2012 at 12am EST." said Mallicoat. "Then after our project closes and is finalized, the two closest guesses without going over will be able to create their own Internet of Things to connect their lives in a whole new way."
Other additional developments as the project has progressed are recent conversations for embedding TOD into things, integrating with Ninja Cloud, Metawatch and Pebble Watch apps.
###