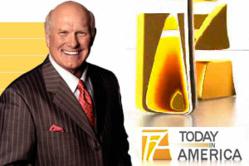 Safe playgrounds are more fun for both parents and kids.
Coral Springs, FL (PRWEB) February 04, 2012
Bringing our viewers the latest news in products and services for their family and lifestyle, Today in America reviews featured guest Playtime, LLC, a global leader in safe playground technology in Childhood Development Series: Innovative Toys for Today's Active Child. Today in America TV understands how important safety is for parents when it comes to their kids and is pleased to introduce viewers to this conscientious company.
Playtime, LLC designs, creates and builds safe, healthy, fun soft playgrounds from the U.S. to Singapore to the Emirates. The two main materials used in their unique and colorful creations are foam and carpet as well as specialty wall murals. DuraSoft Safety Flooring System is make bumps and falls softer. Their playgrounds can be found in airports, shopping centers, health clubs and military bases. They are healthy because they promote exercise and glossy urethanes they are made from are naturally antimicrobial.
"As a father, the Playtime playgrounds are great to have where kids needs to let off some steam and parents get a break", Today in America CEO Doug Scott said. These unique fully enclosed play spaces can be customized for your business, such as the McDonald's Play Places.
Today in America with Terry Bradshaw reviews the most innovative, creative and new technologies that affect the lives of everyone. It is seen on local and regional cable TV networks as well as national cable networks such as CNN's Headline News and Fox Business. Out host, Terry Bradshaw is an NFL Hall of Fame Recipient and is can be currently seen on Fox NFL Sunday as an Analyst. For more information and a Today in America TV sample, please visit todayinamerica.com.
Get a custom designed play area for your business:
PLAYTIME, LLC
13310 James E Casey Avenue
Englewood, Colorado 80112 USA
Phone: 303.662.0302
Email: info(at)playtime(dot)com
Web: http://www.experienceplaytime.com