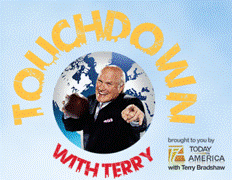 Giving back to your community is our way of saying we're all in this together.
Coral Springs, FL (PRWEB) January 31, 2012
Today in America TV is thrilled to announce the "Touchdown with Terry" online video contest for any sports team, in any city, any school district or any travel team. This contest is being held to boost teams who have persevered through these economically challenging days.
"Athletic programs are often the first cut backs and it has a rippling effect from challenging the physical and mental well being of players to damaging the cornerstone of these local communities," says Today in America TV's CEO Paul Scott. More than a contest, "Touchdown with Terry" is about the spirit of rebuilding America with communities that are active and vibrant, a lifestyle Paul Scott has created in his hometown of Parkland, Florida. Paul's involvement with children has also earned him an appointment as a board member and volunteer for the Parkland branch of Little League of America.
Producers have selected their official Today in America TV Face Book Fan Page as the digital medium for all things "Touchdown With Terry."
Here is how to enter the contest.

Go to our Face Book page http://www.facebook.com/todayinamericatv
"Like" the Today in America page
Click the link on the left Touchdown With Terry
Enter Contest by uploading your video. Videos should be no longer than two minutes.
Invite friends, share the contest and make some noise for your home team.
Today in America TV with Terry Bradshaw is a program that features news stories about compelling new businesses, the best little cities in America and Canada, and segments that compliment the lifestyles of families. Terry Bradshaw, our host, is Hall of Fame Recipient and is currently seen on Fox's NFL Sunday as an analyst. For more information about the show, please visit todayinamericatv.com.
Today in America "Touchdown with Terry" Contest
Contact: Kyra Burton
Email: kburton(at)studiostaff(dot)tv
###