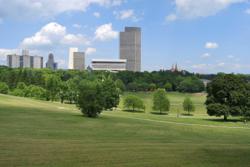 Quality programming for an area rich in culture and history.
Coral Springs, FL (PRWEB) April 10, 2012
Albany, New York is the oldest continuous settlement in the original 13 English colonies. The city is well-known for its extensive history, culture and architecture. It was one of the first cities to install natural gas lines and electricity. This bought an abundance of new industry to the area during the 19th century. Located about 150 miles north of New York City on the Hudson River, Albany has 60 public parks and many festivals. It is conveniently located near Montreal, Canada, Buffalo and Boston making it easy for national touring companies to stop there. Residents and visitors to the area can watch Today in America with Terry Bradshaw on WRNN-TV "New York's Regional News" channel.
Terry Bradshaw is the host and narrator of the innovative cable television program. He is a former professional football player whose career was honored and respected. His 14 year career with the Pittsburgh Steelers resulted in an induction into the Hall of Fame. Bradshaw was given the distinction of being named "Most Valuable Player" twice by his peers.
He retired from the grid iron in 1984 and quickly went to work in television as a co-host on sports shows. He can be seen on Fox NFL Sunday as analyst. Bradshaw is well known to be open and down-to-earth which often leads to motivational speaking engagements. The Today in America TV team is proud to have him as our host.
The Today in America Terry Bradshaw show is a television series that informs viewers on a variety of topics, trends and relevant issues impacting our nation and the world. The show is filmed throughout the United States and Canada and is broadcast nationally and regionally on a variety of cable television networks. For more information about the show, its host or to see samples of the groundbreaking program, please visit todayinamericatv.com.