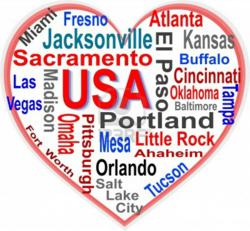 We are pleased to bring this unique special to the audience and share valuable information with them.
Coral Springs, FL (PRWEB) July 31, 2012
As more American city leaders struggle to find ways to make ends meet, they are finding that outsourcing services is not only a good idea, but is assisting them in staying within their budgets. The distinguished Today in America with Terry Bradshaw television program announces the launch of a special three-part series that will feature businesses which provide vital services to their community on a locally outsourced basis. The new special will be titled "American Cities" and will review what each of the companies' offer their city such as parking services, signage, road repair and more. The Telly award-winning production explains how these firms provide the city with the essential services so the city does not have to pay for the cost of providing it, and in turn, enjoys a revenue share. This lowers city operating costs and increases city revenue and serves the city's residents better.
Terry Bradshaw, one of the most recognized American sports celebrities, is also known as one of the NFL's greatest quarterbacks. A Hall of Fame inductee, Bradshaw played for the Pittsburgh Steelers for 14 years before an aggravated injury forced him to retire. He immediately went to work for various national television networks and today is a game analyst. The iconic former professional football player was recently chosen to be Nutrisystem spokesperson.
The three part American Cities series is a new production from the producers of the engaging program, that bring the best in quality, educational programming to most major media markets via regional and national cable networks. Today in America TV dives into topics that relate to our everyday life. It films on location throughout the country and is edited in South Florida. Get the most recent business trends, find home and lifestyle ideas, as well as discovering the best little cities and town in the United States on the television show that is convenient and entertaining. More information is available at todayinamericatv.com.