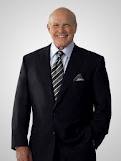 The most recognized and respected sports celebrities in the nation is honored again.
Coral Springs, FL (PRWEB) July 09, 2012
The word fame means something more than famous. It is a distinction of honor and proof that a career is notable and respected. The host of Today in America TV, Terry Bradshaw, is one of the greatest quarterbacks in NFL history. Even after he retired from the sport in 1983, he managed a second career as a television commentator and some-time actor, guest starring in television shows and feature films. His work in television was rewarded with receiving a star on the Hollywood Walk of Fame. To date, the charismatic Bradshaw is the only NFL player to receive this form of recognition.
Bradshaw joined the CBS television network as a football game analyst in 1984, where he worked for 10 years. In 1994, he jumped to Fox where he co-hosts Fox NFL Sunday and is the on-camera comedic relief. He has made cameo appearances in a host of TV shows, such as "Everybody Loves Raymond," "Married with Children," "Malcolm in the Middle" and "The Jeff Foxworthy Show." He also has had bit parts in the Burt Reynolds movies "Hooper," "Cannonball Run" and "Smokey and the Bandit II and a role in the feature film "Failure to Launch". America's most respected sports celebrity is also the narrator of Today in America with Terry Bradshaw.
Today in America TV scours the nation and globe for the most entertaining and informative stories to share with the viewer. Topics on the show reflect the interests of the audience and cover all aspects of living, working and relaxing. Learn about environmentally friendly vacations, outdoor living ideas, advances in medicine and technology, plus many others. The fascinating show films on location and is edited in South Florida. It airs on regional and national business related cable networks. More information about the show, its host and broadcast schedule is available at todayinamericatv.com. Social media enthusiasts are welcome to interact with the engaging program on Facebook, Twitter and YouTube.