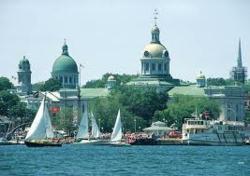 We are excited to extend our broadcasting area all the way to our Northern neighbors in Ontario.
Coral Springs, FL (PRWEB) November 04, 2012
Ontario, Canada is America's friendly northern neighbor. The Today in America TV show is pleased to extend broadcasting to two of the most picturesque small cities in that province – Kingston and Peterborough.
Kingston is considered the gateway to the 1000 islands. It is located on the north shore of Lake Ontario and the St. Lawrence, halfway between Montreal and Toronto. Resplendent with sparkling lakes and old-world architecture, the city offers many fun things to do for anyone wanting the perfect weekend getaway. Not far from Kingston is another scenic city. Peterborough is mostly considered a retirement area, but is has a strong arts community, which makes it a happening city for aspiring artists. It is also the region's major business, education and culture and health care center. The downtown area is great for walking and riding a bike. The first-rate program hosted by NFL star Terry Bradshaw is pleased to air in Kingston on CKWS-TV CBC Affiliate. In Peterborough, the show will be broadcast on CHEX-TV CBC Affiliate.
Former National Football League quarterback Terry Bradshaw is the host and narrator of the informative and engaging program. He is a popular American sports celebrity and a Pro Ball Hall of Fame inductee. He is well-known as a friendly and open person with a great sense of humor, which often results in requests for motivational speaking engagements and invitations to be on talk shows. His 14 years with the Pittsburgh Steelers football team kept him fit and he has continued as a spokesperson for Nutrisystem.
Today in America with Terry Bradshaw is an innovative show covering topics such as technology, education, home and lifestyle and the environment. It features an inside look at the best small colleges in the U.S. and Canada, highlights great small cities and towns. The program airs on business related cable television networks in regional and national media markets. Visit todayinamericatv.com for more information, to check the broadcast schedule for your city and to take advantage of one-click connectivity to the show's social media pages.