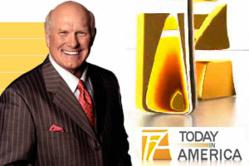 Today in America TV introduces the audience to cool ecological and cultural travel ideas.
Coral Springs, FL (PRWEB) February 22, 2012
The Today in America TV show is proud to announce the launch of a new series, Eco and Cultural Travel, as part of its television programming. The new informative series will introduce viewers to the many options available in this exciting new category. The audience will be able to see what is available for the entire family.
Today, many Americans are seeking more meaningful travel experiences. From the eco adventure to the cultural excursion, they're reaching far beyond their borders to encounter something significant. Whether they are white water rafting, taking a whale watching tour, or simply want to go someplace the kids will appreciate, eco and cultural travel is on the agenda. There are no limits to the fun places where families can go on vacation.
The Today in America TV show host Terry Bradshaw is a veteran professional football player. During his fourteen year career, he led the Pittsburgh Steelers to four Super Bowl Championships, was twice named MVP and was inducted into the Hall of Fame. After retiring from the game, he authored two books and acted on television and in film. . His genuine personality makes him a much requested motivational speaker. He can be seen on Fox NFL Sunday as an analyst.
Today in America Terry Bradshaw is a show committed to topics that affect the way people live, work and play. The show can be seen on local, regional and national cable channels such as CNN Headline News, Fox Business Morning, and ESPN 2 and ION. For more information about Today in America TV, please visit todayinamericatv.com.
###