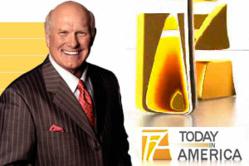 Today in America TV Hidden Gems series gets its cool on in Elizabethtown.
Coral Springs, FL (PRWEB) January 27, 2012
The Producers of Today in America TV are pleased to introduce Elizabethtown, Kentucky in our new series "Hidden Gems to Live, Play and Work", which will air on local and regional cable networks.
Elizabethtown, or E'town as the locals call it,is surrounded by three main highways connecting it to Indiana, Ohio and Tennessee. It's 35 miles north of Louisville. It offers every type of transportation such as highway, air, rail and river, making it easily accessible. They are within a day's drive of two-thirds of the nation's population. Speaking of which, theirs is approximately 22,000.
E'town is spacious. Check out their massive green areas which offer a plethora of pluses for business and future residents. Its low cost living means affordable housing. Low taxes and low utility rates are always a welcome break to both industry and citizens. Healthcare is within easy access with the 300 bed regional Hardin Memorial Hospital and 18 other acute-care hospitals are within 30 miles in Louisville.
Today in America TV with Terry Bradshaw scours the country for the most compelling stories about business, location and ideas that affect the daily lives of everyone. Topics include family and lifestyle, medical breakthroughs as well as other subjects important in our lives. Our new "Hidden Gems" series explores the smaller cities and towns where living is like it was back in the day. It airs on most local and regional cable networks. For more information on Today in America TV, please visit our website at todayinamericatv.com.
Wanna visit? Contact:
Elizabethtown Tourism & Convention Bureau
1-800-437-0092
Elizabethtownky.org
###