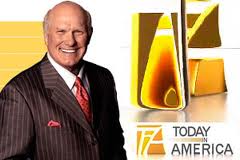 Today in America TV Facebook fans have a great opportunity to watch videos of the show in production from the page.
Coral Springs, FL (PRWEB) November 12, 2012
The first-rate Today in America TV show announces cool new features and interactive fun for fans of their Facebook page. Viewers of the award-winning program and interested readers who Like it will be able to watch behind the scene clips of host Terry Bradshaw as he prepares and films a segment. Inside information about where the show is airing and who is featured are also on the web's number one social media meeting place. Viewers and fans are welcome and encouraged to post comments about the program and its host, who is one of the most famous sports celebrities in the country. The informative show looks forward to another year of social media interactivity.
Terry Bradshaw is the host and narrator of the program. He is well-known for being charismatic and impulsive and yet quite down-to-earth. His unique sense of humor is one of the trademarks of his personality. Bradshaw, a Pro Ball Hall of Fame inductee retired from playing professional football in the mid 1980's and has worked as a commentator, analyst and co-host on a variety of national television networks for almost 30 years. He is also a spokesperson for several name-brand products and companies, a best-selling author and is an enthusiastic and inspiring motivational speaker.
Today in America with Terry Bradshaw is a proud leader in educational programming. The show explores topics such as solutions for small businesses, the greening of America, the best small colleges and towns in the U.S. and Canada, plus many others. A diverse sampling of industry professionals is a feature the award-winning program enjoys sharing with the audience. It films throughout the nation and is distributed on regional and national cable television networks geared toward business news. More information is available at todayinamericatv.com or on YouTube, Twitter and Google+.