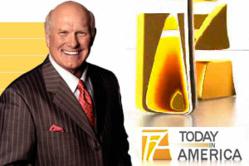 Today in America reviews Fortune Hi-Tech Marketing for people who want to reach their financial goals.
Coral Springs, FL (PRWEB) February 02, 2012
Today in America reviews Fortune Hi-Tech Marketing, (FHTM), a direct selling company that gives people the opportunity to build their own businesses, on a new segment. Independent Representatives, regular, ordinary people, are given an opportunity to reach their financial goals through successful sales efforts, dedication, leadership and teamwork. FHTM's line-up of name brand marketing tools assists them in their business efforts.
Many of their Representatives have reached FHTM's high business standards. One such achiever is Veteran Jerry Brown whose motto is "Don't just look for a superstar. Be a superstar." Other top performers include Ken Bailey, who started in his West Virginia hometown where there were no highways or streetlights. Today he is a top earner who reminds new reps "be persistent and consistent." There are nine women who have become high level reps for FHTM. These are just a people who have made it.
Today in America TV with Terry Bradshaw combs the nation and the globe to bring viewers fascinating stories and firsthand insights from entrepreneurs and organizations within various industries. The television show is broadcast nationally and regionally on many popular television networks. The show's host, Terry Bradshaw, is considered by many to be one of the greatest quarterbacks of the NFL. Since retiring from the gridiron in 1984, Terry has remained a familiar face to television audiences. After ten years with CBS as a Color Commentator, Bradshaw joined Fox Sports in 1994, where he remains today as one of the co-hosts of and analysts for Fox NFL Sunday. For more info, please visit us at todayinamericatv.com or on our Facebook page at facebook.com/todayinamericatv.
Fortune Hi-Tech Marketing Contact
Phone: (859) 422-7000
Web: fhtm.net
###