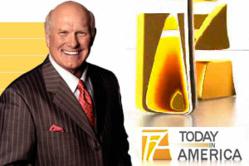 Voted Best Claims Administrator for the 2nd Year in a row, by the New York Law Journal.
Coral Springs, FL (PRWEB) February 06, 2012
Committed to introducing star performers with a heart of gold in the business field, Today in America reviews the legal administrative service company of Garden City Group, Inc. of New York to its new Business Management Series. GCG takes on the big guns of corporate America and finds time to give back.
GCG is a known leader in the class action settlement, bankruptcy and solicitation field. With eleven offices across the U.S., they have engaged in many high profile distribution cases such as the $3.5 billion Visa/MasterMoney Antitrust settlement and the $20 million Gulf Coast Claims Facility. Bankruptcy clients include the AMR Corporation (American Airlines) and Borders Group as well as class action lawsuits in employment and human rights. Today in America reviews GCG and its services.
Today in America TV also focuses on corporations which routinely practice acts of social responsibility. Garden City Group actively gives back to the community and world by donating volunteer time, money and services to a myriad of charitable organizations from InMotion to The National Kidney Foundation to Soldiers Angels.
Today in America TV with Terry Bradshaw is a one of its kind television program that brings viewers the latest news in technology, businesses that give back to the world, eco and luxury travel and family fun. Today in America is the first show of its genre hosted by Terry Bradshaw that is geared towards the educated, affluent viewer. Based on viewer feedback, the show has spawned great interest in many luxury markets.Our host, Terry Bradshaw is an NFL Hall of Fame Recipient who can be seen on Fox NFL Sunday as an analyst. For find your local air time and see a Today in America TV sample, please visit todayinamericatv.com.
Need a good law admin firm?
Contact: Garden City Group, Inc.
Phone: 800-327-3664
Email: info(at)gcginc(dot)com
http://www.gcginc.com
###