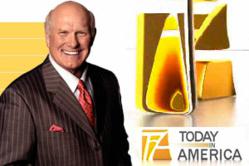 Healthy living through healthy choices is an investment to yourself.
Coral Springs, FL (PRWEB) February 10, 2012
Taking a proactive approach toward healthy living, an increasing number of Americans today are opting for raw, organic food products and ingredients. Experts say people who choose to buy raw, organic foods do so for varying reasons. Some say that organically grown products just taste better. Others believe that eating raw, organic food will lead to better health, both for themselves and for the environment. Organic foods are grown and processed according to stringent certification guidelines. A Today in America sample includes a new series called Healthy Living through Healthy Choices.
Whether male, female, young, or old, the importance of making healthy choices is apparent. A Today in America sample question is how do we achieve it? In this series, we will discover innovative ways to achieve healthy lifestyles.
Today in America TV identifies stories for television and Internet content, and educates viewers on a wide-variety of emerging concepts. As a powerful engine of change, Today in America broadens perspectives, erases boundaries and opens up new avenues for progress. With fresh content throughout each series, viewers will gain insight on opportunities for their families, businesses, lifestyles, and financial futures. The show's host, Terry Bradshaw, is known to many as one of the greatest quarterbacks of the NFL. Twice named as Super Bowl "MVP", Bradshaw still today holds Super Bowl all-time passing records.
Since retiring from the gridiron in 1984, Terry has remained a familiar face on television. He became a Color Analyst for CBS Sports on their NFL broadcasts and later one of their in-studio co-hosts. He eventually joined The NFL Today. After ten years with CBS, Bradshaw joined Fox Sports in 1994. He became one of the co-hosts and analysts on Fox NFL Sunday.
The Today in America television show is available nationally and regionally on many popular television networks. For more information and to see a Today in America sample, please visit todayinamericatv.com.
###