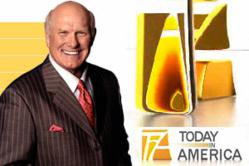 Small hidden gems of schools are excellent places for students to learn and grow.
Coral Springs, FL (PRWEB) April 11, 2012
Higher education costs are escalating as fast as the interest on a student loan. How can parents and students find the best educational facility for the kids and not go broke doing it? Today in America TV brings a new series to the audience called Hidden Gems of Higher Learning. The educational cable television program will give information about the best in smaller schools. Size matters in choosing a college or university. It is all about what is the best option for the student.
Today in America with Terry Bradshaw brings viewers interesting stories about what's happening in a variety of fields around the country and around the world. Our host, former NFL great Terry Bradshaw is recognized as one of the greatest quarterbacks in football history. He was selected as "All-American" at Louisiana Tech University and was the first player selected in the 1970 draft. He eventually joining the Pittsburgh Steelers and played with them until 1984 when he retired. Terry holds the distinction of being the first quarterback ever to win four Super Bowl Championships. Twice named as Super Bowl "MVP", Bradshaw holds Super Bowl all-time passing records to this day.
After retirement, Terry became a regular on television. He was a Color Analyst for CBS Sports on their NFL broadcasts and later one of their in-studio co-hosts. He eventually joined The NFL Today. After ten years with CBS, Bradshaw joined Fox Sports in 1994. He became one of the co-hosts and analysts on Fox NFL Sunday. He is also a spokesperson for Nutrisystem, the weight loss program.
The Today in America Terry Bradshaw show is available nationally and regionally on many popular television networks. It is filmed throughout the United States and Canada and edited in South Florida. For more information about the show or its host, please visit http://www.todayinamericatv.com.