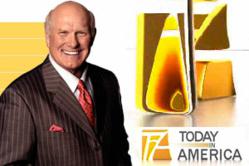 Jackson, Mississippi can get a Today in America sample on a major cable network channel.
Coral Springs, FL (PRWEB) February 23, 2012
Today in America with Terry Bradshaw is pleased to announce that the award winning program will be airing in Jackson, Mississippi. This sweet Southern city earned its nickname "City of Soul" by being famous for its music and food.
Jackson, the capitol of the state, is known for its Gospel, Blues, and R&B music. This hidden gem of the South is a city full of festivals, culture and old fashioned family fun. It was also named 3rd out of the 100 largest cities for the "Best Bang for Your Buck" places to live according to Forbes Magazine. Residents and visitors can watch the program on Fox WDBD-TV while enjoying a heaping plate of southern hospitality.
Show host, Terry Bradshaw is a 14 year veteran of professional football. During his long and well respected career, he was twice named a Super Bowl MVP, won four Super Bowl championships and is an NFL Hall of Fame Recipient. After retiring from the game, he worked as an actor, singer and authored two books. He was on CBS Sports as a color analyst. He can be seen on Fox NFL Sunday as an analyst during football season. With his genuine and charming personality, Bradshaw is also a highly requested motivational speaker for many Fortune 500 companies.
Today in America with Terry Bradshaw features compelling episodes about a broad variety of subjects that will inform and entertain viewers. The program is committed to sharing educational programs with its audience about topics that affect their lives. The show can be seen on local and regional cable channels as well as national cable television networks such as CNN Headline News, Fox Business Morning, and ESPN 2 and ION. For a Today in America sample, please visit todayinamericatv.com.
###