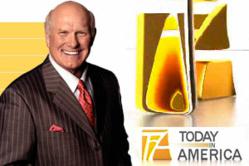 Migraines disappear after the Omega procedure.
Coral Springs, FL (PRWEB) February 05, 2012
Committed to delivering the newest information that will how we live, Today in America reviews the latest news in migraine treatment and spotlights Dallas, Texas based Migraine Treatment Centers of America in "Medical Minute" series.
Migraine Treatment Centers of America (MTCA) are primarily located Texas with a center in Tennessee. Their world-class partner physicians are comprised of board-certified specialists in interventional pain management. Their dedicated group of health care professionals utilizes a new approved treatment called The Omega procedure.
The Omega Procedure is a revolutionary migraine treatment that provides long-lasting relief for people who suffer from chronic, debilitating migraine pain. The Omega procedure uses gentle neurostimulation to treat both the occipital and supraorbital nerves that cause severe headache pain. The International Headache Society deems it so effective that they have honored its innovators. More than 80 percent of patients experience a significant reduction in migraine pain.
To see what patients have to say about these centers and to learn more about the Migraine Treatment Centers of America, please visit their website at migrainecenters.com.
Today in America i s the first show of its genre hosted by Terry Bradshaw that is geared towards the educated, affluent viewer. Based on viewer feedback, the show has spawned great interest in many luxury markets.
Today in America with Terry Bradshaw is an informational and educational television program geared to the decision makers. It covers topics that relate to their lifestyle, new business ventures, medical breakthroughs and other subjects in which they might be interested. To find your local air time or for a Today in America TV sample, please visit or website at todayinamericatv.com
Need relief from your migraine?
Contact: MCTA
1-855-300-6822.
Email: info(at)migrainecenters(dot)com
Web: migrainecenters.com
###