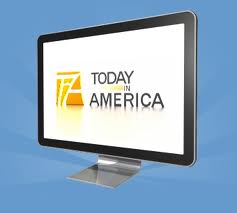 Combing the nation for the most recent medical breakthroughs for the audience.
Coral Springs, FL (PRWEB) April 19, 2012
Quality of life has become a vital concern these days. Keeping healthy and being able to keep up that standard of living is the main challenge people are facing today. The millions of sick and afflicted look to those who can create a cure or a device that will ease their suffering. Every day, there are new developments, new technologies and new medicines made. With that, hope prevails, even among those who may have given up. Today in America TV spotlights the dedicated professionals who are making medical miracles in a new series.
Host Terry Bradshaw is a professional football veteran. The popular and outgoing former Pittsburgh Steeler quarterback played pro ball for 14 years. His leadership skills helped steer the team to four Super Bowl wins and eight AFC championship titles. He earned his place in the Hall of Fame and his peers gave him the distinction of "Most Valuable Player" twice. Bradshaw retired in 1984 and has worked in television for more than 25 years. He has been a co-host on CBS sports shows and is now an analyst for Fox NFL Sunday. His affable and down-to-earth personality keeps him active with motivational speaking engagements. He is also a spokesperson for Nutrisystem, the weight loss program.
The Today in America with Terry Bradshaw show is available nationally and regionally on many popular cable television networks. The show explores topics that are relevant to the lives of every day people. Learn more about the greening of America, cloud computing and family wellness, plus many more, in a manageable amount of time. The informative cable program films throughout the United States and Canada and is professionally edited in South Florida. For more information about the program its host or topics, please visit todayinamericatv.com.