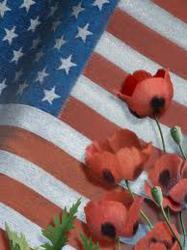 Proudly supporting our nation's military their families and veterans.
Coral Springs, FL (PRWEB) May 26, 2012
The American Federal holiday Memorial Day is one where the country honors those who served our country and made the ultimate sacrifice for it – their lives. The holiday takes place on the last Monday in May and is marked by traditions that many follow. Parades and patriotic events will take place in almost every city or town. Red poppy flowers may be seen on some as they symbolize the blood shed by those who died in service. Today in America TV and its host Terry Bradshaw is a proud supporter of our troops and veterans. Staff has given time and money to organizations that support our nation's heroes and heroines such as the USO, Soldiers Angels Germany, and others. The award-winning television program salutes those who gave their lives to keep us safe and those who support them on the home front.
Terry Bradshaw, former professional football player, is the host of the educational program. A proud and strong American, he has completed several NFL overseas tours for the USO. A four-time Super Bowl winner and Hall of Fame inductee, he won the first annual TV Guide Award as Favorite Sportscaster in America. An Emmy award-winning broadcaster, Bradshaw is the most sought-after motivational speaker from the world of sports. He is the author of four books, including Keep it Simple, a New York Times best-selling memoir published in 2002. Bradshaw also is a top-selling gospel singer and an actor. In 2001, he became the first sportscaster presented with a star on Hollywood's Walk of Fame.
Today in America with Terry Bradshaw takes pride in being a leader of educational programming. Topics on the informative show range from family and lifestyle to business and technology. The engaging cable television program films throughout the United States and Canada and is edited in South Florida. It airs regionally and nationally on business oriented cable networks. For more information about the show and its host, or to see sample videos, please visit todayinamericatv.com, or engage it on Face Book, Twitter and Pinterest.