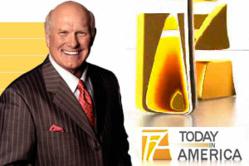 Today in America with Terry Bradshaw is committed to airing shows that can impact the lives of everyone.
Coral Springs, FL (PRWEB) February 25, 2012
This beautiful city with clean air has consistently ranked high on many "Best Places to Live" lists. Today in America with Terry Bradshaw is pleased to announce that air dates have been scheduled for the Minneapolis/St. Paul, Minnesota area.
Minneapolis is the "City of Lakes" with 22 of them in the area. It is also well known to be great place to live for its affordability and strong support of the arts, as the city has more theatre seats per capita than any other U.S. city. This thriving area of originality brought 3M Post It Notes, Tostino's Pizza and Tonka Toys to the world's attention. It is also home to six Fortune 500 companies whose names are well liked in homes across the United States. Need more information about this stunning metropolis? The Mall of America is the largest enclosed retail and entertainment complex in the world. Fans of the 1970's TV show "Mary Tyler Moore" can stop by and see a statue of this iconic career girl character. Residents and visitors can catch Today in America with Terry Bradshaw on CNN Headline News via Charter cable television system.
Terry Bradshaw, the show's host, played professional football for 14 years. During his long and respected career, he led the team to four Super Bowl Championships, was twice named MVP and was inducted into the Hall of Fame. After he retired, Terry went into acting, singing and authored two books. Currently, he can now be seen on Fox NFL Sunday as an analyst. His open and genuine personality makes him a sought after motivational speaker and is one of the most trusted sports celebrities in the world.
Today in America with Terry Bradshaw is a show dedicated giving the audience intriguing information on topics that affect their lives. The show can be seen on local, regional and national cable channels such as CNN Headline News, Fox Business Morning, and ESPN 2 and ION. For a Today in America sample, or to watch clips from previous episodes, please visit todayinamericatv.com.
# # #