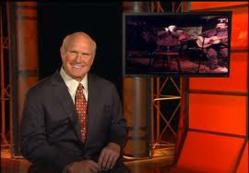 Mobile work devices make it easier to satisfy the customer.
Coral Springs, FL (PRWEB) April 06, 2012
E-tablets, smart phones and cloud computing are making great advancements for busy employees on the move. The ability to take the office with you and get work done is the way to manage business in the customer driven workplace. Today in America TV explores why mobile workforce solutions are the rising stars in off site work platform.
Mobile devises like the Blackberry and other smart or android phones allow employees to take care of the customer and communicate with the office within minutes instead of hours. GPS tracking on the units allow managers to monitor where staff is and how long it takes to complete a task. The emergence of video chats and instant messages gives field staff the ability to instantly take charge of a customer's needs on the spot.
Today in America with Terry Bradshaw brings viewers engaging stories about what's happening in a variety of fields around the country and around the world. The host, former NFL great Terry Bradshaw is recognized as one of the greatest quarterbacks in football history. Bradshaw holds the distinction of being the first quarterback ever to win four Super Bowl Championships. Twice named as Super Bowl "MVP", Bradshaw holds Super Bowl all-time passing records to this day.
Following retirement from pro football in 1984, Bradshaw became a regular on television. He became a Color Analyst for CBS Sports on their NFL broadcasts and later one of their in-studio co-hosts. He eventually joined The NFL Today. After ten years with CBS, Bradshaw joined Fox Sports in 1994. He became one of the co-hosts and analysts on Fox NFL Sunday. He was recently selected to be a spokesperson for Nutrisystem, the weight loss program.
Today in America with Terry Bradshaw is a television series that informs viewers on a variety of topics, trends and relevant issues impacting our nation and the world. The show is filmed throughout the United States and Canada and is broadcast nationally and regionally on a variety of cable television networks. For more information about the show or its host, please visit http://www.todayinamericatv.com.