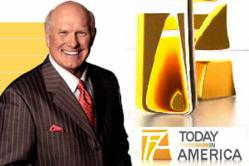 Today in America TV being featured in the Northwest cities of Seattle, Spokane, Tacoma and Portland, Oregon.
Coral Springs, FL (PRWEB) February 11, 2012
The Producers of Today in America with Terry Bradshaw are pleased to announce the new Today in America sample of upcoming air dates for several cities in the American Northwest. Examples of cities that will air the show include Seattle, Spokane and Tacoma, Washington as well as Portland, Oregon. These cities will be able to watch the award winning program throughout the month of February at various times throughout the day, on a major cable television network.
Today in America TV is pleased to be shown in this part of the country, which is considered to be the most educated part of the country. The show covers many topics that pertain to every day living, working and playing such as ecological travel options, renewable energy solutions and tomorrow's health solutions today.
Today in America host, Terry Bradshaw spent 14 years playing professional football. He was twice named a Super Bowl MVP and has won four Super Bowl championships. He can now be seen on Fox NFL Sunday as an analyst. Bradshaw still holds the Super Bowl all-time passing record today. Today in America TV is honoring Mr. Bradshaw by hosting a "Touchdown with Terry" online video contest. Please visit our Face Book page for more information.
The Today in America Terry Bradshaw TV program features intriguing episodes about a broad variety of subjects. The show can be seen on local and regional cable channels as well as national cable networks such as CNN Headline News, Fox Business Morning, and ESPN 2. For more information about the show and its host, or to see a Today in America sample, please visit todayinamericatv.com.
###