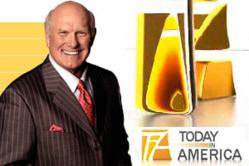 Bringing the audience the most recent developments in the patient care industry.
Coral Springs, FL (PRWEB) March 13, 2012
The healthcare industry in the United States is robust and ever changing. Patient care is a hot subject and one that will continue to be discussed for years to come. Drug development, clinical research and modern nursing care are areas that are in the limelight with more emphasis than any other area. Today in America with Terry Bradshaw offers a new series aimed at the most recent developments in this industry that affects every professional to inform and educate about the most recent developments.
The Today in America TV show scans the nation and the globe for interesting stories about business, industry, and lifestyles and reviews them to provide fascinating TV. Former NFL great Terry Bradshaw, who introduces the show, is recognized as one of the greatest quarterbacks in football history. He was "All-American" at Louisiana Tech University before joining the Pittsburgh Steelers. Bradshaw holds the distinction of being the first quarterback ever to win four Super Bowl Championships. Twice named as Super Bowl "MVP", he holds the Super Bowl all-time passing record to this day. After working with CBS-TV for ten years, Bradshaw moved to Fox Sports as one of the co-hosts and analysts on Fox NFL Sunday. He is currently a very requested motivational speaker and a spokesperson for Nutrisystem, which many celebrities endorse.
The Today in America TV show is available nationally and regionally on many respected television networks such as CNN Headline News, Fox Business Network and ESPN 2. It airs in convenient time slots for the busy executive on the go. The program's guests come from successful businesses, small towns and communities and enjoy the opportunity to inform and educate the public about their endeavors. For more information or to find local air dates, please visit todayinamericatv.com. To engage the show through social media, please visit us on Facebook or view one of our many samples on YouTube.