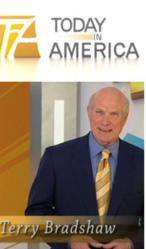 Scientific research into addiction has concluded that that addiction is actually a chronic disease.
Coral Springs, FL (PRWEB) February 12, 2012
Stories about how addiction has ruined lives are common in our society today. Most Americans have been affected in some way by addiction to alcohol, nicotine, illicit substances, and other addictive behaviors. Yet, addiction is a phenomenon that is often surrounded by misunderstanding. In fact, the very nature of the problem -- what addiction is -- has long been debated. Some people think of addiction as a moral or character problem, something caused by degeneracy or lack of willpower; however, scientific research into addiction has concluded that addiction is actually a disease, a chronic illness like diabetes or hypertension. A Today in America sample will explore these thoughts in their new series.
Breaking Free from Addiction will educate viewers on the disease of addiction and how it not only affects those who are addicted, but also the lives of family and loved ones surrounding them. The series will explore a variety of treatment and recovery programs to help those suffering overcome the disease.
Today in America with Terry Bradshaw identifies stories for television and the web, educates viewers on a wide-variety of emerging concepts and breakthroughs in several fields such as business and technology, sustainable living solution and the greening of America. As a powerful engine of change, Today in America TV broadens perspectives, erases boundaries and opens up new avenues for progress.
The show's host, Terry Bradshaw, is known to many as one of the greatest quarterbacks of the NFL. Twice named as Super Bowl "MVP", Bradshaw still today holds Super Bowl all-time passing records. The Today in America TV television show is available nationally and regionally on many popular television networks. For more information and for a Today in America sample or airings, please visit todayinamericatv.com.
###