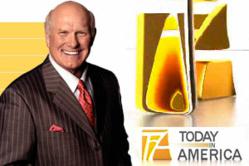 San Antonio gets Texas sized Today in America TV for February.
Coral Springs, FL (PRWEB) February 24, 2012
Everything is big in Texas and this city proves it. San Antonio is one of state's largest and most populated cities and a very well educated one. It has five major colleges and universities as well as 12 institutions of higher learning. This grand and sparkling city also has a strong military presence with four major installations and one of the best health care facilities in the world. The weather in San Antonio is usually warm and sunny, just like the people who live there. Residents and visitors can enjoy Today in America with Terry Bradshaw on Fox KABB-TV.
Show host, Terry Bradshaw played professional football for fourteen years before he retired. During his long and well respected career, he led his team to four Super Bowl championships, was twice named MVP, and was inducted into the NFL Hall of Fame. After retiring from the game, he worked as an actor, singer and authored two books. Later, he was asked to join CBS Sports as a color analyst, which he eagerly accepted.. He can be seen on Fox NFL Sunday as an analyst during football season. With his open personality and self depreciating humor, Bradshaw is also a highly requested motivational speaker for many Fortune 500 companies.
Today in America with Terry Bradshaw is committed to bringing news and information segments to an educated and affluent audience. Program topics run the gamut from family recreation to American industry. The show can be seen on local and regional cable channels as well as national cable television networks such as CNN Headline News, Fox Business Morning, and ESPN 2 and ION. For a Today in America sample, please visit todayinamericatv.com.
###