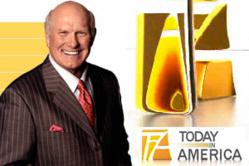 Going green is the way to go.
Coral Springs, FL (PRWEB) February 09, 2012
Everybody is going green and it isn't even St. Patrick's Day yet. St. Louis, Missouri is green. In fact, the city has an entire web page dedicated to how you can go green, which includes how to find a new green job and an online store where people can buy the cool recycled items. A Today in America sample series schedule of airings is now available on their website.
Today in America TV is pleased to be back in the St. Louis area on the local Charter cable system. Area viewers can watch the show on the CNN Headline News channel. Airings will be daily from February 8 until February 15 at various times during the day from 6:54 A.M. to 4:54 P.M. For exact show times can be found on the website's page: Today in America TV airings.
Terry Bradshaw, the beloved and great former Pittsburgh Steelers quarterback hosts several TV programs, including Today in America with Terry Bradshaw that introduces viewers to compelling guests who speak on various topics from Business to Home to Family Life and the Environment. Bradshaw spent 14 years playing football and he can now be seen on Fox NFL Sunday as an analyst. He was twice named as Super Bowl "MVP". Bradshaw still holds the Super Bowl all-time passing record today.
The Today in America Terry Bradshaw TV program features intriguing episodes about a broad variety of subjects. The show can be seen on local and regional cable channels as well as national cable networks such as ION, Fox Business Morning, and ESPN 2. For a Today in America sample of the show's episodes, check out the official show website,or visit us on Facebook. http://www.todayinamericatv.com. The site has information about our host Terry Bradshaw, a fan page, and a new cool magazine to read. Today in America TV can also be found on Twitter and YouTube.
# # #