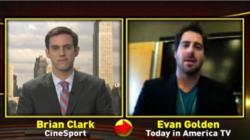 Bringing viewers the most up to date information about subjects that affect them, Today in America TV is featured on Cinesport.
Coral Springs, FL (PRWEB) February 21, 2012
The Today in America TV show is proud to announce that the show's Senior Producer Evan Golden has been interviewed by Cinesport, a web video syndication company that distributes sports videos. The videos are targeted to local media markets across the country and seen by thousands of people every day on the digital version of local newspapers.
The web based interview advertises Today in America TV's online sports video contest called "Touchdown with Terry". With the rising numbers of obese people, school sports programs bring cut due to the bad economy, the producers of this award winning cable television program thought the contest would be a great idea. Playing sports is greatly beneficial to kids. It builds confidence, provides team building skills and provides camaraderie. The contest offers anyone in the United States a chance to win $10,000 for their local sports team. Catch the interview on the Cinesport website.
The Today in America TV show host, Terry Bradshaw, is a former NFL great. He was selected as "All-American" at Louisiana Tech University and he was the first player selected in the 1970 draft, eventually joining the Pittsburgh Steelers. Terry holds the distinction of being the first quarterback ever to win four Super Bowl Championships. Twice named as Super Bowl "MVP", Bradshaw holds Super Bowl all-time passing records to this day. He can be currently seen on Fox NFL Sunday as an analyst.
Today in America Terry Bradshaw brings viewers interesting stories about what's happening in a variety of fields around the country and around the world. The Today in America TV show is available nationally and regionally on many popular television networks. For more information, please visit the Today in America TV website.
###