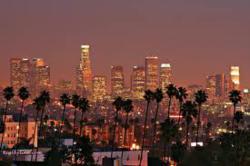 We are very proud to welcome Los Angeles, California and Rochester, New York to our list of media markets.
Coral Springs, FL (PRWEB) September 21, 2012
The enticing Today in America TV show is proud to welcome two new great America cities to its list media markets. Los Angeles, California is long known as the entertainment industry of the country. But many do not know that is also regarded as the entrepreneurial capital of the world with about 200,000 small businesses and ranks second in the number of women-owned businesses. It also has more stage theaters and museums than any other city in the U.S. Rochester, New York, located upstate, is known as The World's Image Centre and also as The Flower City. Anyone who has ever sent or received money or a telegram can thank Hiram Sibley, who founded Western Union in this northeastern city in 1957. The compelling educational program brings engaging informative programming to both cities soon.
Show host Terry Bradshaw is a former professional football player and NFL Hall of Fame inductee. He played for the Pittsburgh Steelers for 14 years before he retired and went into broadcasting. Bradshaw has worked as a pro ball commentator and analyst for more than 20 years on various national television networks. Today he is a favorite co-host on an Emmy-winning pregame show, an often requested motivational speaker, an entertaining talk show guest and one a spokesperson for Nutrisystem.
The Today in America Terry Bradshaw show takes pride in being a leader of quality, educational programming. It covers topics which relate to everyday living, such as DIY home solutions, indoor air quality ideas, best business schools, any many more. The show films on location in the United States and Canada, and is distributed on many regional and national business related cable television networks. Watch sample videos, read more about host Terry Bradshaw and find the air dates for your area at todayinamericatv.com.