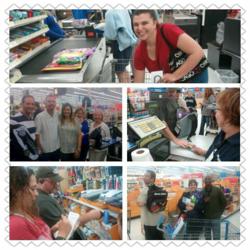 We are very proud of the volunteer time and funds spent on 4KIDS of South Florida because they care for the county's foster children needs.
Coral Springs, FL (PRWEB) November 16, 2012
The producers of the Today in America TV are proud to announce they were the winners of the Key Partners – MassMutual Citizenship Award sponsored by the South Florida Business Journal. While the contest itself honored the area's best attorneys and accountants, the Citizenship Award was presented at the same time. Producers of the show won the award for their tireless volunteer work and donations to 4KIDS of South Florida, a local non-profit which is tasked with caring for foster children in the area. This is a special honor for the production company which takes the needs of America's child residents to heart.
Staff and the producers of Today in America with Terry Bradshaw are strong leaders in community-driven programs by donating thousands of dollars and hundreds of volunteer hours in their effort to give back. The staff has given their time and money to such charitable organizations such as Soldiers Angels Germany, The Humane Society, and the American Cancer Society. In fact, the company gives employees one paid day off to do volunteer work. Show host Terry Bradshaw, a Pro Ball Hall of Fame inductee was invited on overseas USO tours before. The informative program offers a special series dedicated to touching hearts and changing lives.
The show covers topics which are useful and relevant to the lives we live. It reaches into areas like family health and wellness, the environment, solutions to healthcare costs, plus many more. It features interviews with leaders in their fields and those carving an innovative path in the world of business. The program films in the United States and Canada, and airs on regional and national cable television networks with a focus on business news. More information is available at todayinamericatv.com. Social media fans are welcome to engage the show on Facebook, Twitter, YouTube and Google+.