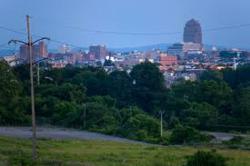 Offering the best in educational programming to hard-working people.
Coral Springs, FL (PRWEB) May 19, 2012
Allentown, Pennsylvania is located in the eastern part of the state and is the third most populous city, after Philadelphia and Pittsburgh. It is close enough to Philly and New York City where residents can enjoy the finer aspects of big city entertainment. However, this city of hard-working people has its own landmarks in which to be proud: it is home to the giant Mack Trucks company, Olympus Corporation USA, Fortune 500 companies Air Products and Chemicals, and PPL Corporation. It is also home to Dorney Park and Wildwater Kingdom, a highly popular amusement park. The people in this area are known to have a strong work ethic and are proud Americans. They are, after all, the descendants of the people who hid the original Liberty Bell from the British in 1777. When a break is needed, they, and the surrounding area, can watch Today in America TV on WFMZ-TV.
Terry Bradshaw, former pro ball player, is the host of the educational television program. He was the quarterback nicknamed "The Blonde Bomber" for his powerful throwing arm. Bradshaw played for the Pittsburgh Steelers for 14 years, helping them win four Super Bowl games and leading them to eight AFC Championships. He was inducted into the Hall of Fame for his skill on the grid iron and was also given the "Most Valuable Player" title twice in his NFL career. Bradshaw retired in 1984 and has been a regular on sports shows for more than 20 years. He is a sports analyst for Fox NFL Sunday and a spokesperson for Nutrisystem, the weight loss program.
The informational cable television show takes pride in being a leader in educational quality programming. Today in America with Terry Bradshaw films throughout the country and is edited in South Florida. It airs nationally and regionally on business oriented cable networks. For more information about the program, its host, or to see sample videos, please visit todayinamericatv.com.