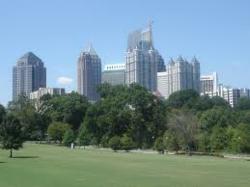 The peach of educational programming offers topics for everyone.
Coral Springs, FL (PRWEB) May 03, 2012
Atlanta, Georgia is a famous U.S. city. Also known as "The Big Peach", the city has more than 65 streets with the word Peachtree in them. Although the streets are not named for any peach tree, a large Creek Indian settlement was called Standing Pitch Tree after one lone tree. Over time, pitch tree became peach tree. The city, which is ranked number one as the Most Energetic City, has an abundance of family friendly activities. It offers more shopping center space than any other city except Chicago. Stone Mountain, the world's largest mass of exposed granite is a short 20 miles east of the downtown area. If outdoor activities are desired, the Silver Comet Trail is a recreational path that starts in nearby Smyrna and runs all the way to the Alabama border. Residents and visitors in and around Atlanta can watch the award-winning Today in America TV on ION WPXA-TV.
Terry Bradshaw is the host of the engaging cable television program. He was the starring quarterback for the Pittsburgh Steelers who led the team to four Super Bowl triumphs. His skill and natural leadership on the grid iron earned Bradshaw an induction in to the Hall of Fame. He retired in 1984 and has been a fixture on sports related television shows. Bradshaw is an analyst on Fox NFL Sunday and a spokesperson for Nutrisystem. His popularity keeps him active on the motivational speaking circuit.
The Today in America with Terry Bradshaw cable program covers topics that are interesting and relevant to the lives of every one. The fascinating show films around the country and is edited in Coral Springs, Florida to be convenient to watch. It is broadcast on a variety of regional and national cable networks. Please visit todayinamericatv.com for more information about the show, its host or to view to see sample videos.