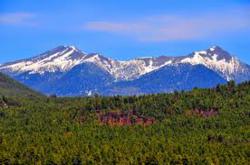 Proud to be on the air in the highest city in the U.S., Flagstaff, AZ.
Coral Springs, FL (PRWEB) October 13, 2012
Today in America TV is proud to release October air dates for what is known as the highest city in the United States. Flagstaff, Arizona, affectionately called "Flag" by its residents, is also the gateway to the Grand Canyon. This naturally beautiful area was once a railroad town whose economy was based on the lumber and ranching industries. Now, it makes its fortune in the pet food, scientific, transportation and other industries. It is an outdoor lovers' paradise offering acres of hiking, skiing and horseback riding in the splendor of all four seasons. It offers a rich and colorful history of what life was like on old Route 66 for history buffs. Locals and visitors in Flagstaff can enjoy the award-winning, informative program on KAZ-TV "Arizona's Own".
Show host Terry Bradshaw is a former professional football player. He was the starring quarterback for the Pittsburgh Steelers who was largely responsible for their four Super Bowl wins. His skill and talent for the game earned Bradshaw an induction in to the National Football League Hall of Fame in 1989 – the first year he was eligible. He retired from the sport in 1984 and has worked as a football commentator and analyst for almost 30 years. His popularity is as strong today as it was during his 14 years with the Steelers. Bradshaw is an often requested motivational speaker, a best-selling author, and a favorite guest on talk shows.
Today in America with Terry Bradshaw is a unique program covering topics which are relevant in the lives of professionals. It looks into the educational, financial, high-tech and other industries to share valuable information with the viewer. The audience gets an inside look at emerging technologies and creative entrepreneurs. More information about the influential program is available at todayinamericatv.com and on social media sites Facebook, Twitter and YouTube.