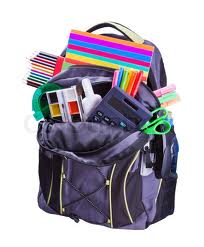 Kids cannot succeed in school unless they have the tools they need. We were glad to pitch in to help.
Coral Springs, FL (PRWEB) August 07, 2012
The educational television program, Today in America TV is located in Broward County, Florida, where school starts on August 20. On Friday, August 3, staff of the informative program joined Executive Producer Doug Scott to a local discount store where 25 backpacks were filled with needed school supplies, purchased and then donated to a local charitable group for distribution. The caring writers, associate producers and producers joined him for this volunteer event as many of them have school-age children themselves and feel giving back is vital to a healthier community. Scott donates countless hours and resources to local organizations such as 4KIDS of South Florida, His Caring Place, The Heart Gallery, as well as many others that support single mothers and children in need.
Host Terry Bradshaw, the former Pittsburgh Steelers quarterback, has found his own way to give back to his fans. The author of three books gives light-hearted advice with his classically famous self-deprecating sense of humor. His books give one a sense of hope, make one feel good and occasionally something is learned from them. Bradshaw has not rested on his laurels after retiring from the grid iron. He is busy on the motivational speaking circuit, making visits to late night talk shows and filming spots as a Nutrisystem spokesperson.
The http:// Today in America Terry Bradshaw show digs into subjects that are relevant in the lives we live. Fascinating interviews with entrepreneurs, successful businesses and business owners and others who are forging new areas in the fields of technology, health, education and lifestyle are featured. The provocative show is a proud leader in quality, educational programming which airs on regional and national business oriented cable television networks. Visit todayinamericatv.com for more information or to see the broadcast schedule for your area. Social media fans are welcome to post comments on the show's Facebook and Twitter pages.