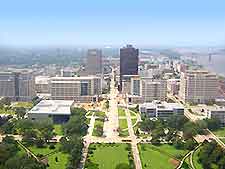 Quality, educational and fun programming on Today in America TV in Baton Rouge, LA.
Coral Springs, FL (PRWEB) August 14, 2012
The Today in America Terry Bradshaw program is proud to offer August air dates for the state capital city of Baton Rouge, Louisiana. Residents and visitors with an "envie" for quality, educational programming can tune in on ABC WBRZ-TV and watch NFL legend and Shreveport native Terry Bradshaw hosting the show. Baton Rouge can be described as "a happy blend of Cajun joie de vivre and American know how." The city zoo was initially funded by children collecting pennies for it. It is also home to Louisiana State University and other higher educational schools.
Terry Bradshaw narrates the show with his famous smile and gracious personality. The former Pittsburgh Steelers quarterback is a National Football League Hall of Fame inductee and is known as one of the best professional football players in the country. His skill and talent on the field is legendary and his popularity is as strong today as it was in during his career. He retired from the sport in the mid 1980's, due to an injury, as has worked in sports broadcasting for more than 20 years. Bradshaw is one of the original co-hosts of an Emmy-winning pre-game football show, a motivational speaker and spokesperson for Nutrisystem. He is the author of three books; one of which is a best-seller and has acted in feature films and television comedies.
The riveting show delves into topics that are meaningful and useful in the lives of the audience. Today in America with Terry Bradshaw airs on many familiar regional and national business oriented cable television networks. Learn more about the environment, family recreation, education and more at todayinamericatv.com or on Facebook. Sample videos of the program are on YouTube as well the website. The informative show features interviews with leaders in the fields of health, lifestyle, business, technology and more.