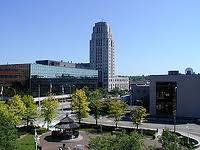 The best in educational cable television airs in Cereal City, U.S.A.
Coral Springs, FL (PRWEB) April 28, 2012
The city of Battle Creek is as well-known as the famous brothers who created the first breakfast cereals there. The Kellogg brothers accidently discovered the process for producing flaked cereal and thus began the beginning of the dry cereal industry. Many fun games can be found on the backs of the cereal boxes. Today in America TV announces April air dates for the area which is available on CNN Headline News. The informative show reviews topics such as family health and wellness and many more.
Another famous resident is C.W. Post, who was the creator of the Post brand cereals, and the creator of the popular Post Grape Nuts Cereal. The city has long been known for being the breakfast makers of America. In fact, Battle Creek, Michigan is the host of the Cereal City Festival where the World's Longest Breakfast Table Festival is held. The festival will be held on June 9, 2012.
The host of Today in America with Terry Bradshaw is a sports legend. Terry Bradshaw was the starring quarterback for the Pittsburgh Steelers who led the team to four Super Bowl victories and eight AFC championship titles. His skill and talent garnered his place in the pro ball Hall of Fame. The veteran professional football player retired from the game and has worked in television for 25 years. Bradshaw is on Fox NFL Sunday as and analyst and is also a spokesperson for Nutrisystem.
The Today in America Terry Bradshaw show covers topics that are relevant to the lives of everyone. The informative cable television program films throughout the United States and is professionally edited in Coral Springs, Florida. It is broadcast regionally and nationally on a variety of cable news networks. Please visit todayinamericatv.com for more information about the show, its host or to view the fan page. The educational program engages on all social media platforms such as Face Book, YouTube and Twitter.