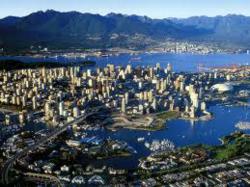 Expanding the audience to our Northern neighbors.
Coral Springs, FL (PRWEB) April 01, 2012
Today in America TV is excited to announce April air dates for "The City of Glass," Vancouver, British Columbia. It earned its nickname by the glass and steel architecture of the downtown area. The city by the mountains was voted number 4 on "best quality of life" list and has more than 200 parks. Stanley Park, the largest and most well known, boasts approximately 1,000 acres of land. The Vancouver Aquarium is located inside the park and contains 70,000 species of marine life. It is an ethnically diverse city with a large immigrant population. Vancouver is 2nd only to Los Angeles for television and film production. Greenpeace, one of the world's largest environmental organizations, was born in Vancouver. Residents and visitors can watch Today in America with Bradshaw on KVOS-TV.
The award winning cable program is hosted by sports celebrity Terry Bradshaw. He is a 14 year veteran of professional football. His long and respected career with the Pittsburgh Steelers earned Bradshaw a place in the Hall of Fame. His honest and open personality coupled with his great sense of humor results in frequent requests for speaking engagements and talk show appearances. Bradshaw is often called one of the most respected sports celebrities in the nation. He was recently selected to be a spokesperson for Nutrisystem, the weight loss program.
The Today in America Terry Bradshaw show is filmed throughout the United States and Canada. It is professionally edited in state-of-the-art studios in Coral Springs, Florida. Topics profiled on the unique program cover a wide variety of interests for active professionals. The innovative cable television program is carried by regional and national cable networks such as ESPN 2 and CNN Headline News. For more information, air dates and sample videos of the cutting edge television show can be found at todayinamericatv.com.