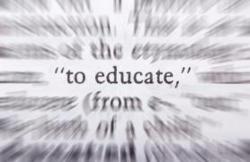 It is imperative to find the best educational solution for the student, whether the learner is a child or an adult.
Coral Springs, FL (PRWEB) August 12, 2012
Americans have many more choices in education today than they did in previous years. The Today in America Terry Bradshaw show is thrilled to announce a series that focuses on the best America has to offer in educational choices for the viewer. The engrossing program will feature interviews with leaders and delve into each of the topics, which are hot in the learning field today:

Hidden Gems of Higher Learning
Best Business Schools
E-Learning Solutions
Leading Developments in Progressive Degree Programs
Home School Essentials
People will learn what makes a hidden gem of higher learning, what criteria goes into a best business school and where they are, how e-learning is becoming the next best way to earn a degree at home, what is trending in progressive degrees and how home schooling is on the rise and what is needed before getting started. The United States is ramping up for a stellar year in education and the riveting show has all the bases covered.
Terry Bradshaw, a National Football League Hall of Fame inductee, hosts the show and introduces the audience to each topic. He played professional football for 14 years before he retired and has spent most of his life in the sport. The former Pittsburgh Steelers quarterback is a co-host of an Emmy-winning sports show, a published author, motivational speaker and Nutrisystem spokesperson. He is one of the most recognizable sports celebrities in the country.
The informative show is a proud leader in quality, educational programming. Today in America with Terry Bradshaw producers scour the country for the most intriguing subjects to share with interested viewers. It films on location and airs regionally and nationally on business oriented cable television networks. Learn more about host Terry Bradshaw, find the broadcast schedule for your city or watch some of the sample videos at todayinamericatv.com.