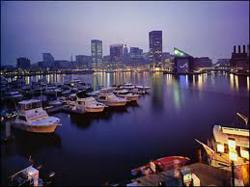 Today in America TV will inform and educate Baltimoreans.
Coral Springs, FL (PRWEB) July 22, 2012
Summer and the rainy season are here, at least in some parts of the country. The captivating Today in America TV is excited to confirm July air dates for "Charm City", Baltimore, Maryland. This historic city produced America's first umbrellas and was home to baseball great Babe Ruth and Edgar Allen Poe. The city ranks number two by Sperling's Best Places as Best City for Tele-working, as more than half of its residents work from home. Baltimoreans and visitors can watch the Telly award-winning program on TCN – The Comcast Network from their home office while getting tasks completed.
Show host Terry Bradshaw is a veteran professional football player, National Football League Hall of Fame inductee, New York Times best-selling author and is an influential speaker at motivational events. He played for the Pittsburgh Steelers as their quarterback for 14 years and helped lead the team to four Super Bowl victories and eight AFC championship game wins. His talent and skill on the grid iron earned Bradshaw two Most Valuable Player titles. He retired from the game in 1983 and has worked in sports broadcasting for more than 20 years. Fans can catch the down-to-earth sports celebrity as an analyst on a national television network during football season or as a spokesperson for Nutrisystem.
Today in America television covers topics of interest ranging from family and home life to business and luxury travel. Producers scour the country for the most intriguing stories of success and innovation to share with the viewer. The informative show is a leader in quality, educational programming. It films on location across the United States and is edited in South Florida. The provocative show airs on national and regional business related cable networks. Read more about the program, its host or watch sample videos at todayinamericatv.com. Social media fans can visit the show on Facebook, Twitter or YouTube.