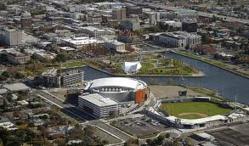 We are proud our show will air in this part of California.
Coral Springs, FL (PRWEB) November 07, 2012
California is one of America's largest states. Three of its most historic and often mentioned cities are located a short distance from each other. The first-rate Today in America TV is pleased to present air dates for its capital Sacramento, Stockton and Modesto. The program airs on ION-KSPX-TV.
Stockton is a city which often gets a bad reputation. It has economic troubles but is still a city close to some of the state's beautiful, natural parks like Yosemite National Park and Lake Tahoe. It is home to the largest inland port in the state as well as being in the wine country of Lodi. Modesto, just 30 miles south, is a city of art, farming and is a bedroom community. It was the childhood home of George Lucas, who wrote and directed the original Star Wars films and earlier American Graffiti which was based on his teenage years there. Sacramento is home to the Capitol Park World Peace Rose Garden, which was created to be a place of peace for people of all nations, cultures, and religions. These three iconic cities are well-known and rich in American West history.
The educational show is hosted by National Football League former quarterback Terry Bradshaw. His skill and leadership helped lead the team to four Super Bowl wins and earned the tall player with the "cannon arm" two "MVP" titles and an induction into the Pro Ball Hall of Fame. Bradshaw retired in the mid 1980's and has worked as a commentator and analyst on televised sports shows for more than 25 years.
The Today in America Terry Bradshaw program is a leader in quality, educational programming. It is a Telly award-winning production which features fascinating businesses utilizing a unique approach in their field. The show films throughout the United States and Canada, and is distributed regionally and nationally on business related cable television networks. Visit todayinamericatv.com to find the air dates for your city or to take advantage of one-click connectivity to Facebook, Twitter, and YouTube.