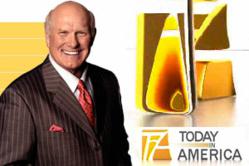 Today in America TV brings viewers the best information about great communities of distinction.
Coral Springs, FL (PRWEB) February 17, 2012
Today in America TV is pleased to announce that the cutting edge news and information program will be airing in Charlotte, North Carolina, where it is well known for its beautiful weather, top rated schools, low unemployment rate and the best healthcare in the Southeast. This growing city where major financial institution corporate offices are located, make it one of the best cities for a residential community of distinction. The show's topics about emerging technology and tomorrow's health solutions today, among others, make the informative cable program a good fit for this area. Residents can watch the innovative programming on WAXN-Action News 9.
The program's host, Terry Bradshaw is a 14 year veteran of professional football. During his long and well respected career, he was twice named a Super Bowl MVP, won four Super Bowl championships and is an NFL Hall of Fame Recipient. He can now be seen on Fox NFL Sunday as an analyst. With his charming and friendly personality, Bradshaw is also a highly sought motivational speaker for many Fortune 500 companies.
Today in America with Terry Bradshaw features compelling episodes about a broad variety of subjects that will inform and entertain viewers. The show can be seen on local and regional cable channels as well as national cable television networks such as CNN Headline News, Fox Business Morning, and ESPN 2 and ION. For more information about the show and its host, please visit todayinamericatv.com. The site has video clips from previous episodes, along with information about show topics, details about where and when the show airs, information about the show's host, and more. The Today in America production team identifies fascinating stories about industries, entrepreneurs, businesses and more all across the country.
# # #