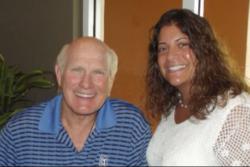 I am very proud to take on this urgent topic and shed light on it for the audience.
Coral Springs, FL (PRWEB) October 16, 2012
Today in America TV is pleased to announce producer Melissa Leibowitz has been chosen to lead the 2013 Medical Minutes series. Her experiences dealing with today's most urgent health issues such as diabetes, heart disease and high blood pressure make her the perfect choice to manage this valuable part of the show. Wellness is a hot and urgent topic in the news today. Leibowitz brings her knowledge to the forefront and shares her unique approach with the viewer. She has worked with the Today in America Terry Bradshaw production group for several years and is a proven, experienced television production professional. Her experience with the award-winning, educational program in the health and wellness series, will be an asset for the audience.
Show host Terry Bradshaw is a former Pittsburgh Steelers quarterback. He was one of the players who was instrumental in leading the team to four Super Bowl wins and many other national championship victories. He retired from professional football in the mid 1980s was inducted in to the National Football League Hall of Fame in 1989, the first year he was eligible. He has spent more than 20 years in broadcasting as a commentator and analyst. Now, Bradshaw works as a co-host for an Emmy winning pregame show and is one of the most requested motivational speakers as well as a Nutrisystem spokesperson.
Today in America with Terry Bradshaw is an informative show covering topics relevant to educated professionals. It digs into subjects such as family health and recreation, DIY solutions and explores cloud computing and the cost of on-demand software. The provocative program films in the United States and Canada and is distributed on regional and national business related cable television networks. More information is available at todayinamericatv.com or on social media sites Facebook, Twitter and YouTube.