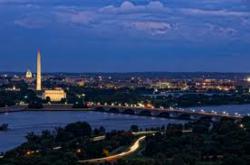 Nothing but the best in educational programming for America's capital.
Coral Springs, FL (PRWEB) September 16, 2012
The citizens of America's capital – Washington, D.C. can only vote in presidential elections and not for Congress. This is because the city is a district and not a state. But Washingtonians will be able to watch the outstanding Today in America TV in the month of September on TCN- The Comcast Network. The engrossing program features informative interviews covering the health and wellness industry, and reaches into other fields as well. Some of the topics in this area are Nutritional Advancements, Developments in Medical Procedures, Tomorrow's Health Solutions Today, plus many more. The District of Columbia was ranked #2 as one of the Healthiest Cities in the U.S. and scored rather high in the mental health category. The data was pulled using five major categories: Physical Activity, Health Status, Nutrition, Lifestyle Pursuits, and Mental Wellness.
Terry Bradshaw, a former professional football player, hosts the program. The National Football League Hall of Fame inductee is well-known for his charismatic personality and is one of the most recognized sports celebrities in the country. He retired from the grid iron in the mid 1980's and has worked in broadcasting as a commentator and analyst for more than 20 years. Many fans know him from the number one ranked sports pregame show he co-hosts, and from feature films and occasional guest spots on television comedies. His popularity is as strong today as it was during his 14 year career with the Pittsburgh Steelers.
The Today in America Terry Bradshaw show is an award-winning educational program. It delves into topics such as home and lifestyle, the environment, health, education, and many more. The program films on location throughout the United States and Canada, and is distribute on regional and national business oriented cable television networks. Producers, like Anne Kole and Gary Baris, encourage the audience to visit the show at todayinamericatv.com, on Facebook and to watch the energizing sample videos on YouTube.