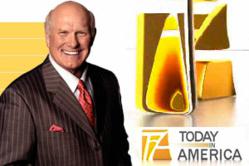 Committed to bringing viewers the most recent news for business, family and lifestyle.
Coral Springs, FL (PRWEB) February 18, 2012
Today in America TV is pleased to announce the cable television show that is informing viewers of the most recent business trends will be airing in Washington, DC, Baltimore, MD, Richmond, VA and other cities in this region. The show's topics about emerging technology, tomorrow's health solutions today, family recreation, renewable energy solutions and others, make the informative cable program a natural for this area which is so rich in education. Residents and area visitors can watch the innovative programming on TCN-The Comcast Network.
Today in America TV host, Terry Bradshaw is a 14 year veteran of professional football. During his respected career with the Pittsburgh Steelers, he led the team to four Super Bowl Championships, was twice named MVP and won the Hall of Fame award. After he retired from the game, he has been active in acting, signing and has authored two books. He can now be seen on Fox NFL Sunday as an analyst. With his open and down to earth personality, Bradshaw is also a highly sought motivational speaker for many Fortune 500 companies.
Today in America with Terry Bradshaw features compelling episodes about a broad range of topics that will inform and intrigue viewers. The Today in America production team identifies fascinating stories about industries, entrepreneurs, businesses and more all across the country. The show can be seen on regional cable channels and national cable television networks such as CNN Headline News, Fox Business Morning, and ESPN 2 and ION. The site has video clips from previous episodes, along with information about show topics, details about where and when the show will air, information about the show's host, and more. For more information about the show and its host, please visit todayinamericatv.com.
###