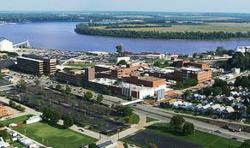 Bringing the award-winning program to the middle of America.
Coral Springs, FL (PRWEB) July 01, 2012
Today in America TV announces July air dates for the cities of Evansville, Indiana and Oklahoma City, Oklahoma. The Telly award-winning program offers the best in educational programming to these two American cities. Evansville is the regional center for a large trade area that includes Indiana, Kentucky and Illinois. The iconic area also offers companies relocating there a unique pro-business tax structure of credits. Hot rod fans will enjoy the August 24 through 26 Frog Follies where more than 4,000 street hot rod cars converge for racing and fun. Oklahoma City, home to the NBA final contenders, the Thunder, is located in the dead center of the country. It is known for many things including the first Twist Tie machine that was invented and used at the bakery which is now known as the Sara Lee Bakery. The informative television program air dates and times for Evansville and Oklahoma City are available on local cable channel guides.
Terry Bradshaw, former pro ball player, is the host and narrator. He was the dominant quarterback for the Pittsburgh Steelers who helped guide the team to four Super Bowl victories and eight AFC championship wins. His 14 year career in the NFL was highlighted with two Most Valuable Player titles and, in 1989, he was inducted in to the Pro Ball Hall of Fame. Bradshaw retired from professional football in 1984 and has worked in the sport as a reporter, commentator and analyst for more than 20 years. He is one of the most recognizable sports personalities in the country. His popularity keeps him busy as a favorite motivational speaker, Nutrisystem spokesperson and talk show guest.
Today in America reviews the stories that have an impact on the way we live, work and play. It is proud to be a leader in educational programming. The compelling show films around the globe and airs on regional and national business oriented cable networks. More information about it is available at todayinamericatv.com.